The "Agenda 21 NOW!" story
---
Beginning in 1996, the Internet started to notably reach schools in Germany. Schools started to connect to the Internet, and for those who had not connected in the early Internet days in 96 or 97 the initiative "Schulen ans Netz" (Connect schools to the Internet) was started by the German federal government in co-operation with the national telecommunication company. It seemed to be extremely modern and also valuable, therefore simply unavoidable, to connect all German schools to the Internet as soon as possible.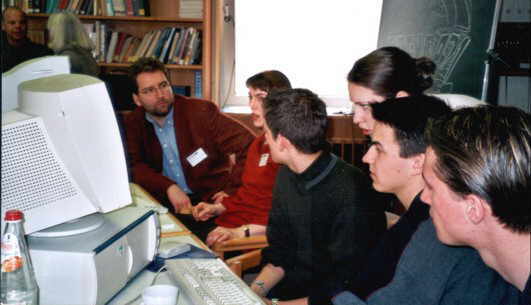 As a result, a considerable contrast developed between the pile of new possibilities the Internet offered (or seemed to offer) and what was already being done with the Internet at schools, especially in lessons outside computer science.
The idea. The idea for "Agenda 21 NOW!" is an idea that comes out of a network. It emerged when I – as the representative of Anna-Schmidt-School in Frankfurt, Germany – sat together with other school representatives during the annual German UNESCO ASPnet schools meeting in September 1998, trying to find ideas for an action day on education for sustainability in 2000. In the coming months we at Anna-Schmidt-School, part of the UNESCO ASPnet (UNESCO's Associated Schools Project Network) and the Baltic Sea Project (BSP), tried to develop a new way of network co-operation through the invention of modern media into ordinary school lessons. The main ideas were:

1. Let us introduce the Internet as a very useful means of communication into non-technical subjects such as languages (esp. English), social sciences and geography.
2. Let us focus on the contents, not on the technical aspect. If the Internet is so useful, we should be able to make use of it for international co-operation on such topics as education for sustainability.
3. Let us combine the new technical possibilities with traditional methods of intercultural learning: give students the opportunity to get into personal contact to students from other countries and intensely co-operate with them on certain topics for a certain time.
4. Let's do something sustainable, if possible. If we want our activity to take effects that last for more than the time of the activity itself, measures have to be taken to provide this (to really make a difference to an ordinary chat).
5. Let us make use of the existing networks we are a part of: the UNESCO ASPnet and the Baltic Sea Project. Schools from outside these networks are also welcome to join.

So how could we combine all these ideas?
The conference, step one: Title.
In early 1999 we tried to combine our ideas:
Since we wanted many students to meet each other at the same time in the same place (with this place being an address in the Internet) we got the idea that our project had many elements of a conference. A conference on the Internet is an Internet conference of course, and the title should be something like a call, a kind of world-wide call for participation in the Agenda 21 process, to make the goals of the Agenda 21 come true. Not only next year, not only tomorrow, but NOW! – this lead to the term "Agenda 21 NOW!". Until today "Agenda 21 NOW!" International Internet Conference is the title of our project.
But: A title is only a title.
The conference, step two: Basics.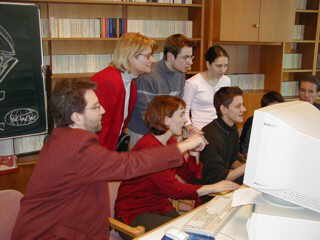 Communication structure, idea 1: Why not make a chat? Chats are very popular among students, they are quick, easy to access, a new way of communication. On the Internet you can find thousands of them. A chat is something that works very rapidly and seemed not adequate to our ideas and intentions for the following reason: The sustaining time of chat contributions reaches from two minutes down to ten seconds in densely populated chats and if you don't run latest high resolution monitor equipment after that time your contribution will have disappeared into the digital nirvana. Moreover in crowded chats it might be hard to follow discussions. It is easy to conclude that chats might be well-known and popular among young people, but nevertheless the wrong means of communication for our purposes. So what kind of communication structure should it be?
Communication structure, idea 2: Our ideas about the communication structure could in significant parts be looked upon as the result of a struggle for an answer to the obvious disadvantages of a chat system:
· We wanted every participant to be able to find out easily who he is having a discussion with, and we wanted this information to be as reliable as possible and reduce misuse.
· We wanted high quality discussions among well prepared participants. Participants who are informed about the topics of the conference. Hence we had to provide a website where the participants – and their teachers! – would find materials and linked sites for their preparatory work e.g. in school lessons.
· We wanted easy-to-understand but serious discussions. This lead to the idea that the displayed order of the contributions on the monitor should not be time-related (as in chat windows) but content-related: At any time it should be possible to see logical connections between the contributions (e.g. which answer belongs to which question).
· We wanted the participants to feel safe and confident in the conference. This means: The conference has to be open for registered participants, but it must not be accessible for all other people. After the end of the conference the contributions must not remain on-line to not enable other people to enter the conference area later and read the contributions.
· We wanted an easy access: Students from all over the world should be able to participate, provided they have access to an Internet computer somewhere, at school, at home, at a friend, in an Internet-café.
· Last but not least: We wanted students from all countries to be able to fully participate in all parts of the conference: Even old computers with slow ten-year-old modems, to be found in schools in many areas of the world, should give students full access to all parts of the conference at an acceptable speed. This excludes e.g. video conferences.

The conference step three: How could such a conference look like?
For preparation: A nicely(!) designed website that
· invites(!) teachers and students from all over the world
· announces place, date, time and theme of the Internet conference
· provides materials for the teachers and students to prepare for the conference
· contains links to other websites with conference related contents.

Registration prior to the conference:
· Registration can be done on the website, in a special form where the participants have to fill in their names and a few other data about themselves including a valid e-mail-address.
· Individual registration. Groups at schools tend to make one registration for the entire group. Since we want the authors of contributions to the conference to be individually recognisable we need individual registration of all participants.
· No quick or just-in-time registration. This allows misuse and is expected to lower the quality of discussions. Serious participants are able to register a couple of days in advance – like in an ordinary conference. All registrations are checked manually for data plausibility. In case of doubt an e-mail asking for correct data is sent to the address that was mentioned on registration. This reduces the number of wrong and fake data.

During the conference itself:
· No chat but virtual Internet conference rooms with a content related order of written contributions.
· One click on the author's name of a contribution should show the most important data of the author (such as name, age, town, country, e-mail-address).


In the early days of the preparations for the first conference we expected all this to be possible with a kind of mail system. The participants would access the conference website, read materials (provided by the "Agenda 21 NOW!"-team) and contributions (written by participants) and then write new contributions and answers by e-mail. The conference-team (in the "Agenda 21 NOW!"-centre) would then include the new contributions into the website and upload the new version immediately.
This would have taken a few minutes for each contribution. Soon we found out that all this could be done automatically with a software specially written in PHP (a language for interactive Internet applications) running on an Internet server.
The result would be an extreme progress in speed since the information latency time (the time from the sending of a contribution until it becomes visible to all other participants of the conference) should shrink to a few seconds(!) at its best.
Through the use of a PHP communication software we could offer real-time communication – with spontaneous questions and answers – which we considered to be highly attractive to the young people.
A very skilled upper secondary student, Thomas Detsch, created this PHP communication software that followed our ideas. Since then, he has done so (and more and more improved the software!) for all further conferences.
The conference, step four: Finalising the structure.
The final structure of our conference, being decided by the preparatory team in November 1999, was in many parts very close to the structure of an ordinary conference:

· The conference takes place on June 5, 2000, on an international action day of the German ASPnet schools and, at the same time, being the International Day of the Environment.
· Duration of the conference: 24 hours, from 00:00 to 24:00 h U.T.C. This is necessary to allow students around the globe to discuss at a local time of the day that fits to their needs.
· Via e-mail interested people (mainly teachers and students) are informed months before the conference about the place, date, time and topics of the conference.
· Participants have to register well before the beginning of the conference. This can be done within two or three minutes on our homepage.
· Registered participants receive special materials including a conference guide. For preparation selected links to related websites can be found on our homepage.
· The participants receive a ticket for the conference via e-mail.
· At the entrance of the conference there is a gate. Only registered participants with a valid ticket (their user name and password which have been sent to them via e-mail a few days before the conference) can pass through.
· The conference has several rooms where different aspects of the conference theme are discussed, the participants can choose freely which discussion in which room they would like to join, they can change the room whenever they would like to. Each conference room has a moderator who has been specially prepared for this task.
· No anonymous discussions. All participants are easily identifiable by each other during the conference, just by a click on the author's name of a contribution. (The author's name is automatically added to all contributions by the system.) This allows contacts and further discussions among the participants after the end of the conference.
· The discussions work in real-time, a new contribution will be visible to all participants in the same conference room only seconds after it has been posted.
· Written contributions are displayed content-related (it is easy to see which contributions belong to each other) and do not disappear, they are visible to all participants (and can be replied to) throughout the entire conference.
· All contributions are kept inside the conference area which can only be accessed by registered participants and only during the conference.
The conference step five: The team.
When planning on the first Internet conference we had to realise that the preparation and operation of such a conference needs quite a number of people – students and teachers – who do different tasks:
A. Before the conference

· Web Design group: Create the design of our website, integrate contents of other working groups into the website.
· Editorial group: Write editorial texts for the website.
· Text support groups: Create texts and pictures (e.g. essays, theses, cartoons, …) about special topics for the conference rooms, can be done e.g. by courses.
· PR-group: responsible for contacts to newspapers, radio, television, …
B. During the conference

· Moderators: upper secondary students moderating the discussions.

· Supervisor: There might be situations when a moderator (mostly upper secondary students) needs help from a teacher. This teacher is the supervisor. He is also responsible for text changes on our homepage during the conference (if needed).
· E-mail co-ordinator: In case of problems or questions all participants can directly e-mail any of the moderators or the team in general. The e-mail co-ordinator distributes incoming e-mails. This keeps the moderators from having to check e-mails themselves during the conference.
· Webmaster: It might be needed to make changes on our website e.g. for actual announcements. Technical problems might occur. A technically skilled upper secondary student might be a good webmaster.
· PR-group for contacts to officials and journalists
· Catering team: Moderators and other hard working people tend to get hungry and thirsty, and it seemed a good idea to us to enhance the quality of the moderators' work by providing hot coffee, cold drinks, snacks, sandwiches and even a hot meal.
· Task Force: responsible for services during the conference time (e.g. you might suddenly need somebody who quickly walks or drives to the next computer store).
· Security team: These people keep away the masses from the hard-working Agenda 21 NOW! team …To be precise: If you want to give interested people the opportunity to take a look at what is going on in the centre of the conference (and it's a tremendously good idea to do so) it is necessary to keep them from coming too close. Those who climb all barriers will be finally caught by the security forces …
The conference step six: How to find participants.
The international UNESCO ASPnet and the Baltic Sea Project proved to be very useful for this important part. Since "Agenda 21 NOW!" has been designed as an activity for schools of these networks we sent our e-mail announcements to all these schools and other schools which we expected to be possibly interested in our Internet conference.
The conference step seven: Waiting for registrations.
After having announced the conference to thousands of schools and teachers world-wide in February 2000 and again in April we were waiting for students to register for the conference. The registration period was from March 2000 until a few days before the conference (the conference took place on June 5, 2000). At the beginning of May the number of students who had registered was still extremely low (37, to be precise), and there was a time when we were really hopeless. But then the number of registrations increased from day to day up to 350 a few days before the conference. (During the second and third conference we experienced a very similar development, giving us the possibility to well estimate the total number of participants two or three weeks in advance. It worked!) A group of participants from Pretoria / South Africa even phoned us in the morning of the conference because they wanted to register and join the conference.
The first conference on June 5, 2000: Experiences.
The conference team in Frankfurt am Main, at Anna-Schmidt-School, was extremely excited when the time came close to 00:00 U.T.C. (2 a.m. in Frankfurt), the opening of the conference. One minute before that time the webmaster sent an opening e-mail to all registered participants. Then the conference started. And it worked! A number of participants in different corners of the world had seemingly been waiting for this beginning, and we experienced an hour of good discussions with many people. This was really fascinating!
In the early morning a severe thunderstorm cut us off from e-mails for a couple of hours and damaged the computer system in our school hence we had to continue the moderation of the conference with two laptop computers (imagine four moderators sharing two small computers!) for three or four hours until the technical problem could fortunately be solved. For a certain time the situation looked technically very disappointing. Fortunately our web server was situated in England, the conference itself was therefore not affected – it was only that we in Frankfurt could rarely take part in it. Being technically reinstalled we found that the discussions had well gone on in the meantime even without or with few moderator activities, and we then experienced a pleasant time with interesting discussions during the rest of the afternoon, cooling down in the evening. The team was extremely motivated, the co-operation during the twenty-four hours was excellent, and the conference was real fun to all of us.
After the first conference: Results?
After the end of the conference the team discussed the result:
· The idea of an international Internet conference for students in general had proved to be successful. It seemingly was attractive for students from all over the world to log into discussions with others about a topic that has to do with their future. For many hours we had interesting discussions.
· The UNESCO ASPnet and the Baltic Sea Project had been very supportive to our conference: Many (but not all) schools who had students participating in our conference are part of one of these school networks.

· We experienced that the Internet conference gave students of such countries as Uganda the possibility to – for the first time in their lives! – get in contact to students from other countries! For different reasons (lack of money, bad rails and roads, political or even military conflicts with neighbouring countries, …) they usually cannot travel to other countries. Online-conferencing is more or less their only way to establish such contacts.
· The concept for the preparation and operation of the conference had been successful. A wonderful and very motivated team of about fifty students and teachers had operated the conference during 24 hours, sometimes with big technical problems (thunderstorm damages), but at all times there had been a conference.
· It had been a good idea to provide a website with information about the conference topics prior to the conference. Many participants seemed to have read (or even had worked with) the texts on our homepage and on many of the linked sites.
· Moderators were important for the discussions, they encouraged others to take part, they set focus on important aspects, changed the direction of a discussion or even asked somebody to please follow the rules. It was like in a real conference: a good discussion very often needs a moderator, better a good moderator.
· The quality of the discussions was mixed: Many of them were interesting, some of them even very intense, but there were also others that were not very serious and of low quality. The best discussions emerged when talking about a concrete problem, a special situation that allowed different opinions. The improvement of the discussion quality was considered as one of the major challenges for the next conference(s).
· Technically the virtual Internet server (not a physical stand-alone server) we had was not sufficient for the demands of such a conference: In general such a server cannot always provide the performance needed. Moreover such a conference server urgently needs a shield against net attacks: There are always people on the Internet who try to digitally attack such a conference e.g. by so-called Denial-of-Service-Attacks, which might 100 % block the conference server. Technical solutions for these problems are essential for a next conference.
· About the date: June 5 has proved to be too late for some countries (such as Denmark, Turkey and Egypt) because it is close to exams or even within the time of exams at schools in these countries.
· There should be a next conference (a reaction of many participants after the end)!

The second conference: preparations.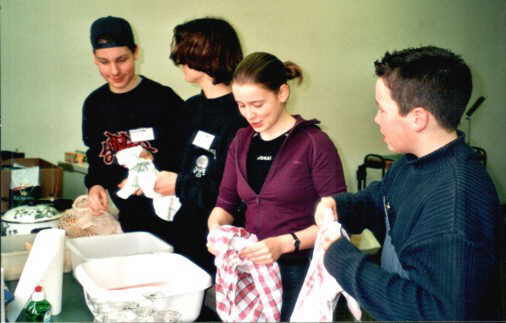 After the great success as soon as August 2000 we made a decision for a second conference. The preparation time for the second conference brought us something we would not have dared to dream of: an IT enterprise (CEMA AG, Mannheim) that offered technical support for us (and has ever done since) as a sponsor. For the second and the third conference, CEMA AG have set up a physical web server together with state-of-the-art security technology (for all technicians: a CISCO content service switch, the best technology available to keep Denial-of-Service-Attacks away from a web server). We were extremely happy!
Moderator training: The quality of a discussion is to some extent a function of the quality of the moderation, this is easy to see when reading through the discussions during an Agenda 21 NOW! conference. Being the moderator of a discussion in an Internet conference is something the moderators should be prepared for because they are mostly not used to this special kind of communication. A three hours training two weeks before the second conference was a first step to improve the discussion quality.
Who should the "Agenda 21 NOW!" website be made for? For students? For teachers? The first conference had given a clear answer: for teachers. It is the teachers who have to be attracted by our e-mail-announcements and then take a look at our website. If they consider our website to be interesting (and attractive) – we know such decisions are often made within seconds – they will maybe decide to work on "Agenda 21 NOW!" topics with their students in one of their courses. We believe that most of the registrations are made because a teacher has told his students to do so. Making a website for students would mean to create a totally different design and present the contents in a much different way, and it is a good question if this could really work, if topics dealing with sustainability and the Agenda 21 could in general be so attractive that many students would deal with them in their leisure time totally voluntarily and without any special recommendation by a teacher.
This shows the important role of teachers in times of IT and modern media: Still teachers are multipliers, moderators of learning processes, teachers are the ones who choose and introduce (new) topics into a learning process – or they don't.
The second Agenda 21 NOW! International Internet Conference
took place on World Water Day, March 22, 2001, with more than 1,200 participants from 40+ countries. To get an impression of the preparations and the conference itself read [2]. The conference took place under technically excellent circumstances, with undisturbed discussions during 24 hours though the web server and its security technology received massive Denial-of-Service attacks at times. Compared to the first conference many improvements had been made, it was the first well-running conference in the way it had already been intended for the June 2000 conference.
How can we further improve the quality of the discussions? During the second conference we had special texts – essays and theses – for each conference room to give a basis for the discussions. It is nice to have so many people from so many different countries discussing about water quality improvement or water politics in Israel and Palestine. It might be even nicer – and more interesting! – to additionally have experts talking to the students in the Internet conference rooms. Experts – if well known locally or even internationally – might attract more people to take a look at or take part in our conference.
The third conference
had a special title: "Floods and Deserts". Our aim was to focus on the possible (or probable) consequences of the current global warming: the rising of the sea-level and the expansion or movement of dry areas such as deserts. Six experts out of five countries – one of the experts was Prof. Bert Bolin, professor of meteorology of the University of Stockholm, former chairman of the International Panel on Climate Change (IPCC) and author of the introductory article in the Learners' Guide "Air quality" – talked to more than 1,900 students out of 60 countries on April 25, 2002.
Since the third conference the organising team has expanded to two schools (Anna-Schmidt-School in Frankfurt and new: Comprehensive School Kandel in southwest Germany), the close co-operation of two schools situated in two rather different areas (distance: about 150 km) has been enriching for both the people from Frankfurt and from Kandel. Our preparations for conference number three included a two days moderators' training course to further improve the quality of the discussions. The two schools are not competing but co-operating: It is extremely important that the members of the Agenda 21 NOW! team – teachers and students from both schools and also the people from CEMA AG in Mannheim who have taken an important technical part – consider themselves as members of one team who do something we have found to be rather unique: prepare and operate an international Internet conference for students.
There will be a fourth conference, about "Borders and Diversity".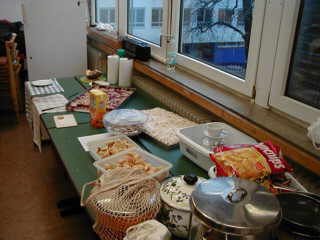 In co-operation with the German National Commission for UNESCO we have decided this title for April 3, 2003. Borders between countries and inside countries, maybe even in our heads, still exist, world-wide, on all continents. How can we respect each other, respect the diversity of human culture, keep peace in a globalising world? Can we live together sustainably?
For the first time we'll offer time-limited workshops to the participants. We estimate that the concentration, the intensity of discussions and the quality of the result – if it is possible and practicable to have one! – will increase through the invention of specially equipped conference workshops.
"Agenda 21 NOW!" has always been – and still is – an experiment. An experiment, an example for really easy content-orientated international co-operation by the use of modern media. Apart from all other things you could say about "Agenda 21 NOW!": To most participants it has hopefully been what it has truly been to us, the "Agenda 21 NOW!"-team: a lot of work, a lot of fun and a continuous source to learn great things.
Martin Jarrath
(Written in March 2003)
Literature and web resources
[1] Jarrath, Martin: Water and Agenda 21. In: BSP Newsletter 2/2001, pp. 39., also available online at [3]
[2] http://www.agenda21now.org - Homepage of the "Agenda 21 NOW!" Internet conference
[3] http://www.b-s-p.org - International Homepage of the Baltic Sea Project.

Martin Jarrath is a teacher for chemistry, geography and IT at Hindenburg-Gymnasium Trier, Germany. He is the coordinator of "Agenda 21 NOW!"


(c) Agenda 21 NOW! 1999-2014.We are not responsible for the content of linked pages.

E-mail to webmaster: webmaster@agenda21now.org